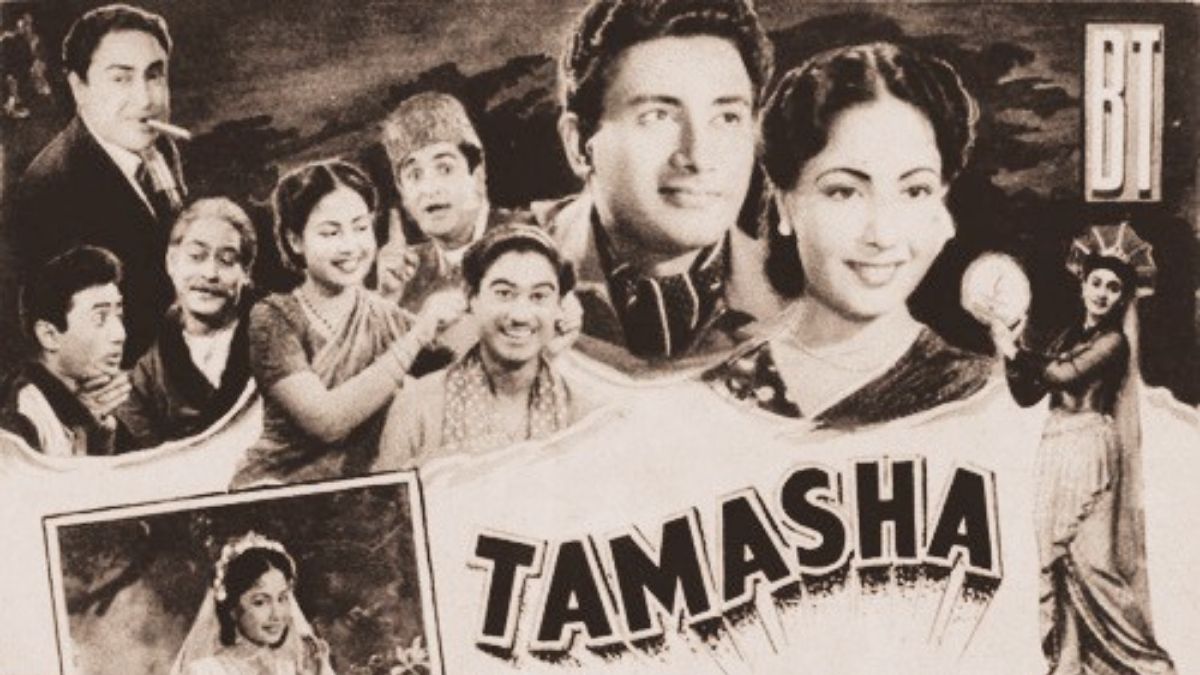 Flashback: Tamasha (1952)
Old-fashioned but entertaining!
On Dev Anand's birth anniversary, a look at one of his lesser known films, Tamasha.
Audiences have such a strong image in their minds of Dev Anand as a suave, charming romantic hero, but in Phani Majumdar's 1952 romcom, Tamasha, he played a feckless young man in the grip of a gold-digging actress.
This was his first film with Meena Kumari as his leading lady, and his 'voice' in later movies, Kishore Kumar, turns up in a delightful cameo, possibly the only film in which the friends acted together.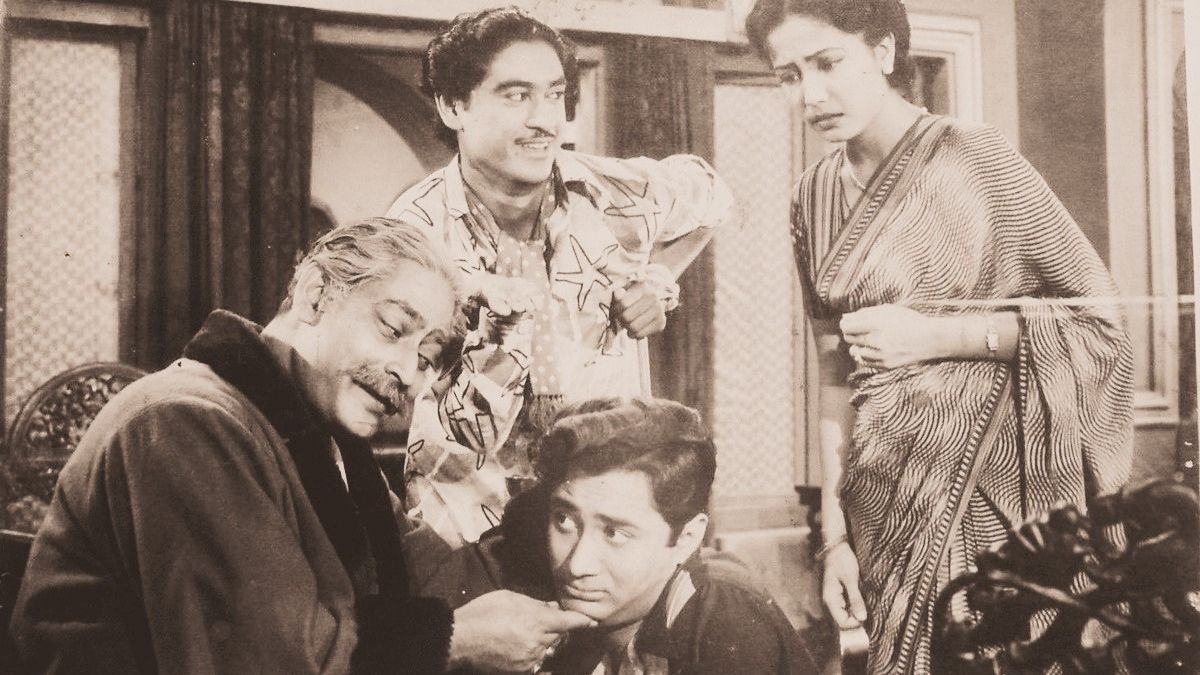 Tamasha was produced by Ashok Kumar and Savak Vacha for Bombay Talkies, and among the other luminaries associated with it were Kishan Chandar as dialogue writer and Lachhu Maharaj as choreographer; Manna Dey took over as music composer after the death of Khemchand Prakash, though, surprisingly Dev Anand was given no songs to sing on screen. The story, credited to SN Banerjee, was actually inspired by Hollywood film It Started With Eve (1941), and the plot was reused many time in Hindi films, notably for Dulhan Wahi Jo Piya Man Bhaye (1977).
Rai Bahadur (Bipin Gupta) is unhappy about his grandson Dilip's (Anand) dalliance with a dancer, Nayantara (Kaushalya). Dilip lies about having broken up with Nayantara and seeing a suitable girl. So Dadaji, with the help of his doctor friend (Shivraj) pretends to be on his death bed and demands to meet his future daughter-in-law.
Nayantara, who hopes to ensnare Dilip for good and make him fund her film heroine dreams, has in her coterie along with her scheming mother (Sunalini Devi), a director (Randhir) and assorted hangers-on. This director gives him the idea of hiring a woman to play the part so that Dadaji can die happy.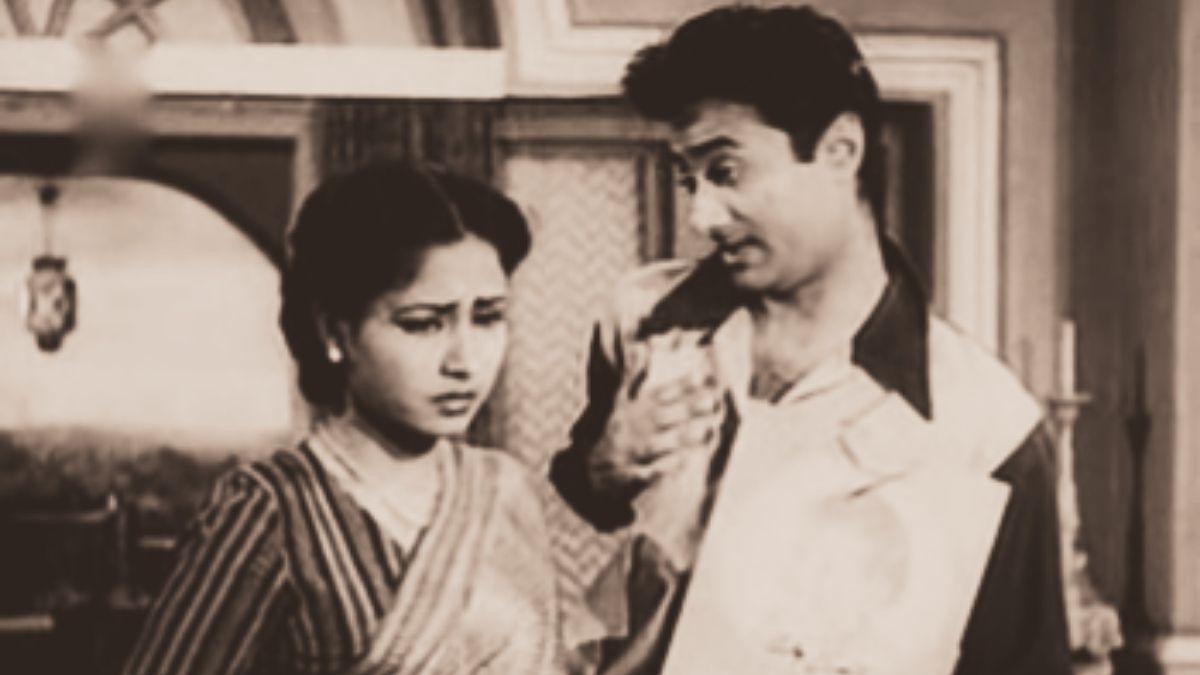 Dilip manages to get a poor girl, Kiran (Meena Kumari) to accompany him home, and when she finds out that Dadaji was her dead father's friend, and that Dilip is cheating him, she is furious. But Rai Bahaur has approved of the pretty and sweet-natured Kiran, and sits up looking hale and hearty. Now Dilip in a fix, because Nayantara won't pull her talons off him, and Dadaji has installed Kiran in the mansion to look after him and the wandering grandson.
For some reason, Kiran falls in love with Dilip — and sings several happy and sad solos depending on the preceding scene — and even he is drawn to her, but Nayantara cooks up an elaborate blackmail scheme.
Nayantara is described as "bazaaru aurat" by an angry Dadaji, because in most Indian households, even today, traditional families want domesticated bahus. However, even by modern standards, she is quite a number — once she had Dilip in the bag, she merrily traipses off to party with the rakish actor Ashok Kumar (Kumar himself), who pays her a compliment by calling her a zehreeli nagin, and is quite happy to be her bit on the side after she marries Dilip for his money and Rai Bahadur's social prestige.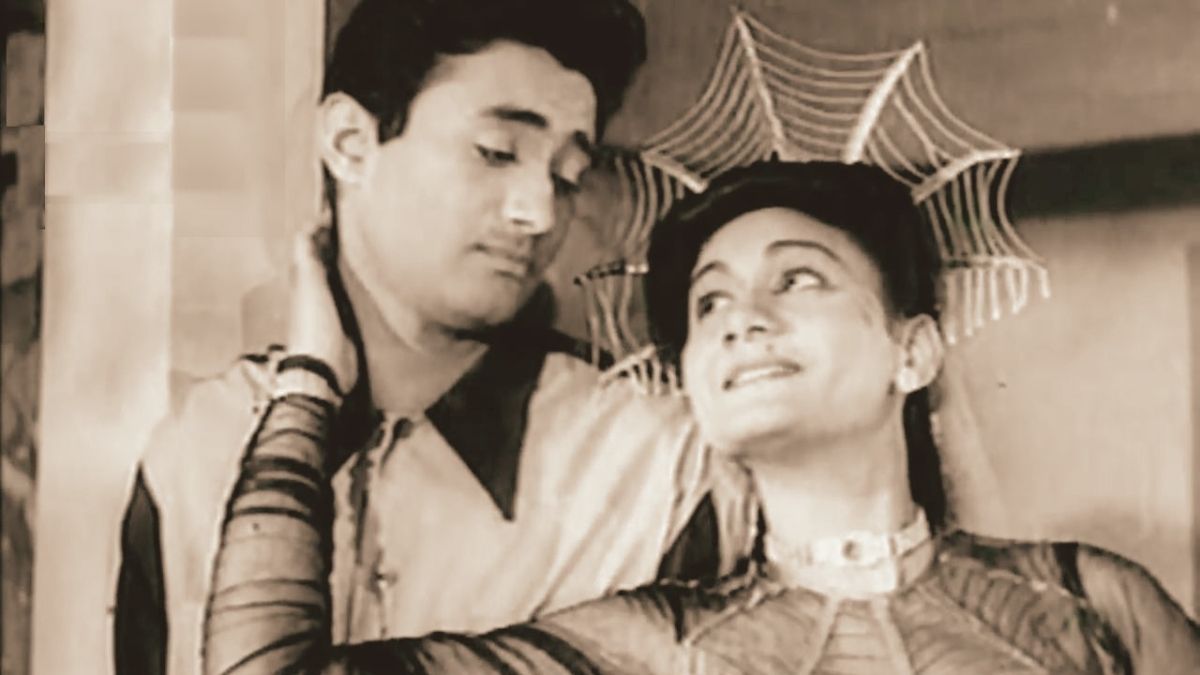 Kishore Kumar plays Rajju, Dilip's eccentric cousin, who serves no real purpose in the plot, but brightens up the screen anyway. He gets to sing a silly Bambaiya song, telling Dilip off for khaali peeli akkha din bom maro-ing, when the fellow just wants to sleep some more.
Men are usually not described a ditzy, but that's what Dilip is, and the last-minute rescue is actually pulled off by a laughing Ashok and quick-thinking Rajju, while the hero wrings his hands in confusion.
Tamasha is old-fashioned but entertaining, and it's nice to watch the actors earnestly at work before they became megastars — all except Ashok Kumar who was already a star and movie moghul when this film was made. Later, Meena Kumari came to to known as the tragedy queen, and Dev Anand as the evergreen hero. Kishore Kumar went on to become a comedy star and legendary singer.